The recent lockdown showed how important it is for HVAC maintenance companies to digitize their business. But which CMMS should they choose to meet their specific needs? A few solutions stand out from the pack by offering features designed expressly for HVAC system maintenance professionals.
HVAC Expert CMMS: The Right Tools for Your Corrective Maintenance Tasks
When your clients' heating equipment requires emergency repair, assigning the most suitable technician to get the job done right away is vital. In order to handle the service call effectively, the technician must have immediate access to necessary information regarding site access, a history of recent service on the equipment in question, and the maintenance tasks noted in the contract.
That is when the referencing of the client's on-site equipment in the HVAC expert CMMS database will prove invaluable. It enables technicians to:
Check all the necessary information for an emergency repair (safety instructions, special tools, specification sheets, etc.) in the event of a breakdown
Determine what gear to bring, based on the type of equipment in need of repair
Update the spare parts catalog
Une fois l'intervention terminée, le technicien peut depuis son téléphone portable :
Write up a report
Add photos
Input materials used
Get the client's signature
The administrative teams are notified in real time of the service call's completion, and the time spent is logged automatically. All the information is recorded online for easy traceability.
HVAC Expert CMMS: The Right Tools for Your Preventive Maintenance Tasks
Les GMAO expertes CVC mettent à votre disposition des fonctionnalités adaptées pour réaliser les actions récurrentes inscrites dans votre plan de maintenance préventive : vous pouvez regrouper les interventions de prévention par périodicité, et créer des gammes de maintenance adaptées à votre activité.
In addition, an HVAC expert CMMS offers you an overview of all the contractual maintenance operations you need to conduct over a given time period. This helps you manage your maintenance plans to meet inspection deadlines and honor your contractual obligations.
HVAC Expert CMMS: An Indispensable Asset in Maintenance Planning
Les GMAO expertes CVC facilitent la planification des opérations de maintenance pour les spécialistes du CVC, aussi bien pour les équipes opérationnelles que pour les équipes administratives :
The manager has access to a map of all clients' and technicians' locations, along with an overview of all upcoming service calls for a given time period. This aids in assigning service calls to the most suitable technician.
Assignments then appear in the overall service schedule, which gives the manager an exhaustive, chronological view of all ongoing and upcoming operations.
Some higher-end HVAC expert CMMS tools also include color coding in the schedules to indicate service type (curative, preventative, construction) and current status (accepted by technician, in progress, pending, confirmed, canceled).
The operational teams also have a dedicated schedule (via mobile app) and a map. They receive a notification of any change made by the manager to the schedule, and the technicians' map is linked to navigation apps (Google Maps, Waze, etc.) for automatic launch of directions without changing apps.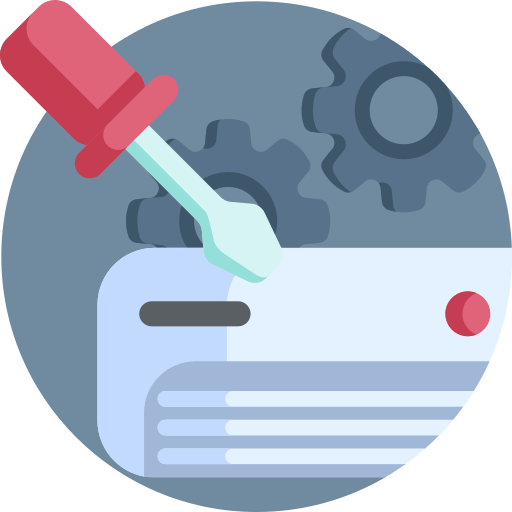 HVAC Expert CMMS: An Indispensable Asset in Installing New Equipment
The process of installing new equipment for a client requires HVAC companies to generate a lot of paper documents. The more demanding the client, the greater the number of estimates to be issued.
Fortunately, HVAC expert CMMS tools are equipped with an invoice sending and storage feature to digitize the documents involved in the installation process.
Once the estimate is written, it is emailed to the client. The administrative teams can see in real time whether the email has been opened, confirming the client's receipt of the offer without requiring multiple follow-ups.
If the offer is accepted, it is converted to an active job site. The administrative teams can then manage supplier orders, plan work orders, and send them to the technicians.
Once the installation is complete, the invoices are sent to clients automatically via email.
HVAC Expert CMMS: Boost Your Client Satisfaction Rate
En plus de vous fournir les outils pour faciliter et digitaliser la gestion de votre propre activité, les éditeurs de GMAO expertes CVC vous permettent de proposer à vos clients une interface de suivi des interventions que vous réalisez sur leur parc. Cette interface, directement connectée avec la GMAO, permet aussi à vos clients, d'avoir accès à tous les documents échangés.
It is even possible to activate email/text notifications to let them know when your teams plan to arrive.
This helps establish trust between you and your client.
Recently, high-end HVAC expert CMMS tools have taken things a step further, offering their clients the option to rate service quality directly on the technician's cell phone. If the client wishes, they can proceed to leave a rating (1 to 5 stars) and add an optional comment. If the signer of the work order is not present, the rating cannot be recorded.
Once the rating is given, this indication of the client's satisfaction is reproduced:
On the work order and in the CMMS expert report. Your CMMS generates statistics sortable by client type, work order type (curative, preventative, or construction), or for a given technician over a specific time period.
In the client interface
For companies that take a client satisfaction index into account, it is an undeniable factor in their success and growth, helping improve their strategy and meet their clients' expectations.
Indeed, the benefits of implementing this KPI are clear:
Show your clients you care about their opinion
Identify dissatisfied clients and take corrective action; identify satisfied clients and capitalize on their positive experience
Establish consistency in field and management teams' visions