Given market demands in terms of transparency and responsiveness, maintenance service providers are now turning to CMMS (Computerized Maintenance Management Systems) that include a client portal. It's a win-win strategy.
CMMS Client Portal: Increased Productivity
The CMMS client portal serves as a shared database for you and your client. For each site, you have access to all the pertinent information for technicians' service calls (contact form, current contract for the site, maintenance task list, etc.) and a history of past services. This reduces the risk of miscommunication between you and the client and makes your communications smoother, as you won't need to contact the client again regarding missing details. Implementing a CMMS client portal reduces clutter in your typical communication channels (email, telephone, etc.) with the client.
The client's productivity is improved as well, as they spend less time answering your requests for information. On the operational side, the client uses an intuitive system to enter a service request with just a few clicks. From the CMMS client portal, the client can view the status of past, ongoing, and planned service calls at their premises at a glance.
This combination of features helps the client improve their MTBF (Mean Time Between Failures).
CMMS Client Portal: Improving Brand Image
A CMMS client portal is an indication of your professionalism. It improves your teams' responsiveness to clients' service requests and facilitates quicker, clearer communication with your clients. Furthermore, the CMMS client portal is designed for the client's ease of use in:
managing their service requests
accessing service call history
accessing the service provider's estimates and contracts
From clients' perspective, a CMMS portal conveys a modern look. They may well showcase it, meaning that you will enjoy greater visibility as part of their communications strategy.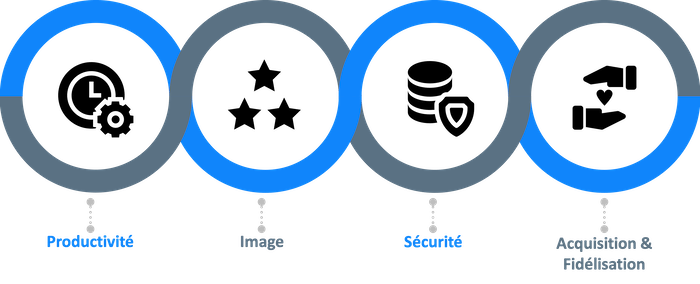 CMMS Client Portal: Securing Data
A CMMS client portal limits data losses and ensures traceability of services. Thanks to the Electronic Document Management (EDM) feature integrated directly in the system architecture, you have access to all the documents necessary for proper service call management, all in one place.
The service history tools provides end-to-end traceability of service call data.
CMMS Client Portal: Attracting and Retaining Clients
These productivity, image, and data security benefits hold increasing appeal to companies seeking maintenance service providers. In fact, many companies now specify in their calls for bids that a CMMS client portal is a necessity.
Moreover, a company that appreciates your CMMS client portal will be a loyal client. Having adopted your solution, they won't want to change, as that would require starting the entire process (prospecting, implementation, and learning to use a new portal) from scratch.
This makes a CMMS client portal a useful strategy for establishing communication processes and service call management with your clients: once their teams are familiar with your system, you'll have no difficulty retaining them as a client.
Finally, the CMMS client portal offers benefits to both the maintenance provider and the end client in terms of productivity, image, and security. If a maintenance company wants to keep up with its competitors, especially when it comes to calls for bids, it urgently needs a CMMS solution that includes this feature.