Electronic invoicing, required of SMEs for their public-sector clients as of January 1, 2019, is now possible via interfaced software
Since January 1, 2017, it has been possible to opt for electronic invoicing of your public-sector clients.
At the beginning of 2019, this invoicing method became obligatory for all companies with 10 or more employees that work with public procurement. They must now upload their invoices (regardless of amount) to Chorus Pro, the government platform for the exchange of invoices and monies between suppliers and public-sector clients. This obligation will extend to microenterprises as of 2020.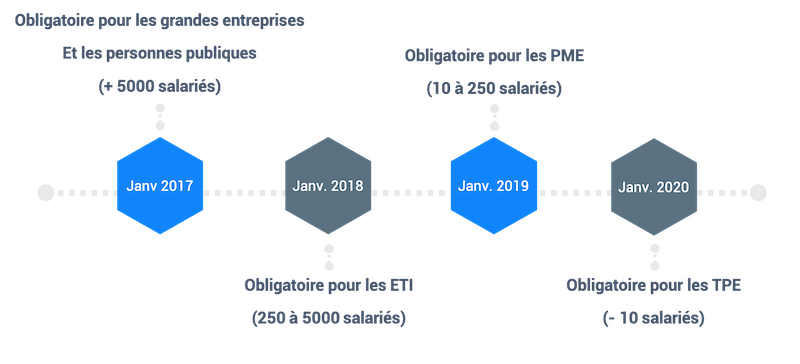 There are two ways to accomplish this.
1. Log in directly to Chorus Pro:
– Register for an account on Chorus Pro
– Next, type in your invoices or add them in PDF format
You can then monitor the processing of your invoices in real time from your computer or smartphone.
An introductory video is available on the Ministry of the Economy's YouTube channel. For a deeper look, France's National School of Public Finance (ENFiP) offers several tutorials on the Bercy Dailymotion channel.
While this solution is easy enough to absorb, it is not the most practical option. Indeed, some maintenance management software tools include a connector to the Chorus Pro platform. That means you can manage your maintenance activities and your public procurement invoices within the same tool. Electronic invoicing via CMMS offers you substantial time savings.
2. Electronic Invoicing Via CMMS

Some Computerized Maintenance Management Systems (CMMS) are adapting to the widespread use of electronic invoicing (for public-sector clients) by developing their own links to Chorus Pro.
That is true of the real estate CMMS Twimm, which has included the invoicing platform on its API list. That means you can now enter your invoices directly in the software, which uploads them instantaneously to Chorus Pro (if public procurement is involved) and monitors their progress.
Electronic invoicing via CMMS lets you centralize maintenance management and invoice management for your public- and private-sector clients, all in one tool. You'll no longer need to switch among maintenance management, public-sector client invoicing, and private-sector client invoicing software; next-generation CMMS tools allow for interoperability among these functions.
Moreover, time savings are not the only benefit of electronic invoicing via CMMS.
Electronic Invoicing Via CMMS: Benefits

Cash flow: Reduced working capital requirement (WCR)
Interconnection: Chorus Pro interfaces with some maintenance management software programs
Time: Less time spent navigating between platforms
Security: Your invoices are archived and their progress is monitored according to standard criteria
Image: Greater transparency = better reputation
Environmental responsibility: Reduced paper use