As the economy is digitized, the use of invoicing software grows more prevalent. However, such software programs are not sufficiently specialized for maintenance companies; CMMS tools are better suited to their needs. Still, you'll need to choose the right one.
Invoicing Software: Beneficial Under Certain Conditions
The use of invoicing software is becoming common in maintenance companies. By digitizing invoices, credits, and other documents, they are supposed to offer various benefits:
Efficiency, by eliminating the need to print and scan documents manually
Profitability, by reducing costs associated with purchasing paper, printing, and sharing or storing documents
Simplicity, by making it possible to locate invoices using a search engine
Security, by archiving invoices digitally
Image, by reducing paper consumption, thus helping the environment
It must be noted, however, that these benefits aren't automatically assured, as performance varies from one software program to another.
In particular, most invoicing software fails to account for the specificities of the maintenance business (job tickets, supplier and subcontractor purchase orders, transfer of data gathered on site, etc.).
Invoicing Software: A Headache for Maintenance Companies
For those in the maintenance industry, searching for invoicing software that genuinely meets their needs is a complex and time-consuming task, especially as those needs vary greatly from one occupation to another. (For example, an electrician's invoice management isn't the same as an elevator or HVAC specialist's.)
Given the sheer quantity of invoicing software programs on the market, finding the right fit often takes longer than expected, especially for smaller companies that can't always spare the resources for an in-depth search.
It's preferable to work with an expert solution designed for maintenance professionals that can adapt to the company's specificities and organization. Software publishers who offer Computerized Maintenance Management Systems (CMMS) are therefore better positioned to meet the specific needs of maintenance companies than "mainstream" invoicing software tools are.
Invoicing Software: CMMS, the Right Alternative
Most CMMS software tools include an invoicing management module, making separate invoicing software unnecessary.
CMMS publishers specialize in digitization for maintenance companies, so they have a deeper understanding of what matters in this profession than invoicing software publishers do.
That is why adopting a CMMS enables maintenance companies to achieve considerable improvement in the fluidity of communications between their operational and administrative teams. Unlike a traditional invoicing software program, CMMS solutions digitize not only the invoicing process, but the full range of a maintenance company's business, including on-site operations. This lets field and administrative teams share data in real time for smoother invoicing.
For maintenance professionals, that makes CMMS invoicing modules more efficient than traditional invoicing software.
The question, then, is which CMMS to choose.
To answer that, you'll need to be sure that add-on modules are available and that the CMMS meets electronic invoicing standards for public-sector clients.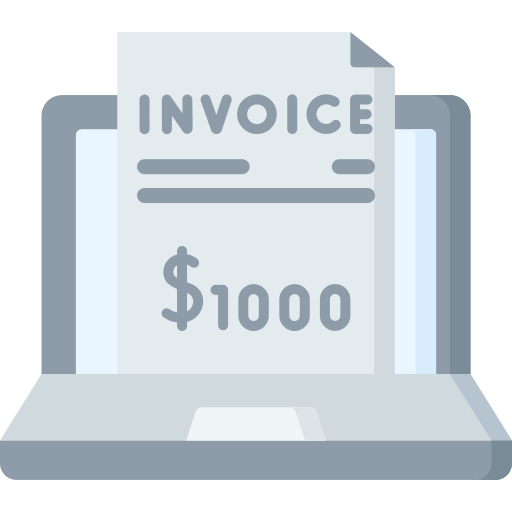 Invoicing Software: The Importance of Inventory and Estimate Management Modules
While a number of CMMS tools on the market include an invoicing module, few of them also provide the option to manage estimates and inventory. However, for maintenance companies, estimate and inventory management often goes hand in hand with invoicing. That makes it counterproductive to adopt a low-end or mid-range CMMS tool, as they rarely offer estimate and inventory management in addition to invoice management. You'd then need to purchase additional solutions, leading to higher overall cost and unwieldy management.
It is wiser, then, to invest in a high-end CMMS tool that incorporates invoice, estimate, and inventory management modules within one interface. Over the long term, such a solution is more cost-effective than a less efficient CMMS would be.
Invoicing Software: Chorus Pro Connection, a Must-Have
As of early 2020, electronic invoicing is obligatory for all companies that work with public procurement. They must now upload their invoices to Chorus Pro, the government platform for the exchange of invoices and monies between suppliers and public-sector clients.
Some CMMS software tools have been adapted for the widespread use of electronic invoicing and offer their own Chorus Pro connections. All you need is to enter invoices into the tool, and public-sector invoices are uploaded to Chorus Pro instantaneously, with follow-up handled directly through the software.
Next-generation CMMS software programs thus combine invoicing management for public- and private-sector clients in just one tool.
For maintenance companies, these CMMS tools not only offer a viable alternative to invoicing software, but may well replace them altogether.